A Comprehensive Guide To Gracefully Letting Go Of Wrong-Fit Team Members.
Multiplication By Subtraction is an indispensible handbook on why, when, and how to let go of wrong-fit team members.
Shannon Waller, author and Entrepreneurial Team Strategist, explains, "Too often, I've watched business owners and team leaders avoid this issue and live with the status quo for too long."
This is a book written to directly address this and to inspire courage and confidence when it's necessary to say goodbye to team members who are no longer a right fit for your company. Keep this book on hand as a reminder that endings are necessary on the path to reaching your most important goals. When it comes to building and rebuilding teams, this book answers it all.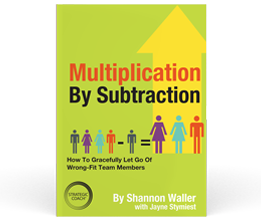 Multiply results by subtracting the wrong person. This book is your team-building resource.
Reviews for Multiplication By Subtraction
"Shannon Waller decisively explores an entrepreneurial breakthrough that other books never mention: strategically firing energy-draining employees for the specific transformative purpose of acknowledging and multiplying the outstanding contributions of those who always show up energized and committed."
Dan Sullivan
President & Founder, Strategic Coach
"Going through the discomfort of letting someone go and then having your staff ask you, 'What took you so long?' is embarrassing. This book has made me realize how important it is and how much easier it is for everyone involved to act quickly when there is doubt."
Mark W. Miller
Visionary & President, Performance Industrial
"This is not the book you read and retire to the shelf. I now have it available as a handy reference for hiring, maintaining, and letting go of team members. Shannon has provided a concise and clear what-to-do manual when faced with the challenge of letting go of employees. It provides thinking tools to build confidence and to end the procrastination that haunts us all in these difficult and emotional situations."
John Colaruotolo
President, Anco Builders
"I wish I'd had this book 20 years ago! I felt like it validated and gave me permission to follow my instincts and make some difficult but necessary endings. It gave us a lot to think and reflect on in our company's practices, both in how to handle existing personnel and how to be alert to new hires."
John Bews
President, Davis Bews Design Group Inc.
"The book was written as if Shannon has been sitting in my office listening to my conversations for the past ten years. Shannon's writing is insightful, relieving, and instructive in a way that only a teacher of entrepreneurs could have the insight and understanding to accomplish. This book will relieve the stress and anxiety of countless employers and employees alike."
Seth Ben-Ezra
Owner & Entrepreneur, Seth I. Ben-Ezra, P.C. and World Class Abstract
"Shannon carefully explains why teams needs to comprise right-fit team members in order for a business to grow. The examples of symptoms and costs of wrong-fit team members were eye-opening and helped me realize that our program would not be scalable with our current team structure. The different scenarios experienced with team members and what to do, along with how to prepare for 'the conversation' was invaluable. This is a great resource for anyone who is in the position of managing teams."
Tinamarie Berger
Director Of Content Marketing, The Recruiter U
"This came at a perfect time for our organization. It helped us really open our eyes to some of the caustic mindsets and behaviors we'd been tolerating or oblivious to, today and historically. The book helped us realize that we'd made excuses for wrong-fit attitudes and behaviors, and trapped ourselves in a cycle of cultural and performance mediocrity. We are looking forward to using it to coach our team on the dangers of spending too long in scarcity traps, and to teach our leaders how to recognize wrong-fit team members and have the courage to make difficult endings."
Amanda Mulhearn
Strategic Projects Manager, Davis Bews Design Group Inc.
"Shannon has worked with so many entrepreneurs; she knows what we need—and how to give it to us. I love her checklist and takeaways. Multiplication By Subtraction gets to the point and will help me fix looming problems before they get out of hand. It will be a great guide the next time we need to prune the branches of our organization to prepare for future growth."
David Kolbe
CEO, Kolbe Corp
"The book is another fabulous addition to my team tool chest. I have already shared it with key people and used it as part of our evaluation and feedback method. What a great tool to reinforce the concepts of The Team Success Handbook. Another winner—love it!"
Dr. Katrin Schmidt
Entrepreneur & Veterinarian, Simcoe Veterinary Hospital
"Facing the reality of poorly performing team members isn't fun, but avoiding it is almost always costly. Shannon's experience dealing with these situations comes through in Multiplication By Subtraction. It's a great, practical resource for correcting problems while they're still correctable, as well as for ending them when necessary. This guide is a must-read for all entrepreneurs and their leaders!"
Amy Bruske
President, Kolbe Corp
"I love it. It's so true. I wish I had this book 15 years ago. I read it and think, 'That's me!' every time."
Stan Doobin
Harvard Maintenance, Inc.
"Thank you, Shannon, for sharing your powerful concept of 'multiplication by subtraction.' It has allowed me to break loose and move on from wrong-fit team members. I am so grateful for your guidance, coaching, and commitment to the plight of entrepreneurs."
Terry Powell
Founder & Visionary, Franchise Source Brands International